How Talabat Clone App Works
LET'S HAVE A LOOK AT HOW Talabat WORKS WITH A CUTTING-EDGE FOUR STEP BUSINESS MODEL!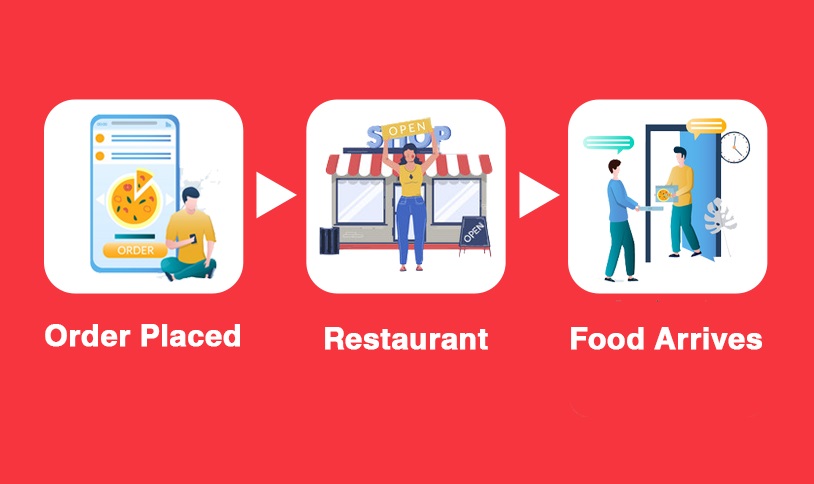 In the modern-day, the Talabat Clone has become renowned among people for its unique features. The Talabat app provides the favorite food to your doorstep as you can easily choose the preferred Food Menu and restaurants to place your order. Moreover, Talabat App is known for the reliability and security features so that they provide seamless, uninterrupted service suitable for the customers, delivery person and restaurant.
With more features, the Talabat clone app development service brings you the complete customized and integrated attribute such as the deals, offers, order statistics, multi-lingual, and many more. The customer could easily track the order as well as current locations.
Step 1: Search
Customers will browse for products such as food or groceries and add to place an order.
Step 2: Order
Customers can order their favorite food or groceries from a nearby restaurant or stores at their convenience.
Step 3: Track
Customers will get real-time updates on their order status.
Step 4: Multi Payment options
Customer could easily pay the amount to a restaurant owner in more ways - Credit/Debit Card, Net Banking, Cash On Delivery, in-app wallet and more.
Step 5: DELIVERY
The delivery agent will deliver the ordered food and groceries to the address specified by the customer.
Step 6: Reviews and Rating
Customers can give reviews and ratings based on the services and orders.
Connect with Our Business Executive Today! We will be happy to answer any questions about the restaurant chain business solution or the Talabat clone app.