How To Develop A Calm-Like Meditation App?
WhatsApp deactivated.
Facebook uninstalled.
Airplane mode is on.
Smartphone users have long used this strategy to concentrate or lead stress-free lives. They frequently blame mobile applications for the worry and distraction they experience daily.
But this perspective changed drastically the moment mindfulness apps came into existence. Users of mobile applications can meditate and lead calm lives, such as the Calm meditation app. They serve as a shining illustration of how smartphone apps may keep you alert, rested, and productive all day long.
The market for these apps has grown at an unprecedented rate as a result of the rising demand for them, particularly since the COVID-19 pandemic's emergence. According to the most recent data, the market for meditation apps is anticipated to increase from $188.64 million in 2018 to $4,377.95 million in 2027, with a CAGR of 41.3%.
Meditation apps like Calm have not only helped users enjoy a peaceful life without leaving the digital world but also proved that it was a smart move to enter this market with the assistance of top app development companies.
However, it is advisable to be aware of the factors contributing to this popularity before you or anybody else thinks along these lines and invests in the creation of a meditation app similar to Calm. or, more accurately, understands the market size for calm-like mediation apps. A brief overview of this will be discussed in the article's following part.
Factors Behind Far-Fetched Growth of Mindfulness App Development Market
The trend of consumers toward a healthy way of living has led to an increase in demand for mindfulness meditation apps. The popularity of meditation applications is skyrocketing as a result of the stress of work and life, as well as a flurry of social and personal commitments that deplete daily energy and interfere with sleep. The market for developing mindfulness apps has grown as a result of the following two significant factors:
1. Awareness of Stress and Mental Healthcare
Today, 75% to 90% of Americans see their doctors for stress-related problems, and 13% of children exhibit symptoms of anxiety disorder as a result of stress.
As a result, meditation is becoming more and more popular as a way for people to enhance their mental health and become aware of the negative consequences of stress. anything that encourages the market to develop mindfulness apps.
2. The use of smartwatches and smart screens has increased
People now have the chance to retain a real-time record of their mental health and well-being thanks to the rise of smartwatches and smart screens. As a result, individuals use mindfulness-based meditation apps like Calm whenever they are depressed or worried. The booming market for meditation apps has once again benefited from this.
Now that you are aware of the motivations for the creation of mindfulness applications like Calm or HeadSpace, let's discuss the top mindfulness meditation apps currently available.
Top Players of Mindfulness Meditation Market
The market performance of all of these top mindfulness meditation applications, including Headspace, Happier, Buddhify, Insight Timer, Smiling Mind, and The Mindfulness App, is incredible. However, we will only discuss the Calm app in this blog.
Calm Meditation Apps A Basic Introduction
Calm was first released in 2012 as a meditation tool, but it has since garnered enormous popularity in the market as a manual for restful sleep and relaxation. Over 100 million people have downloaded the app to date, and 4 million of those are paying subscribers. Credit for this can be credited to the straightforward operating system of this application, which has also earned it the titles of "Top Grossing" Health and Fitness Application and "World's Happiest App."
Assuming you are one of those who wish to try their luck in this field, let's get into the steps necessary to build a successful meditation app like Calm. The rising demand and increasing popularity of such apps have made every business enthusiast interested in developing calm-like meditation apps and studying guides around mood-tracking app development.
How Can I Make a Calm-Like Meditation App?
You must go through the steps outlined below if you want to be successful with meditation app creation.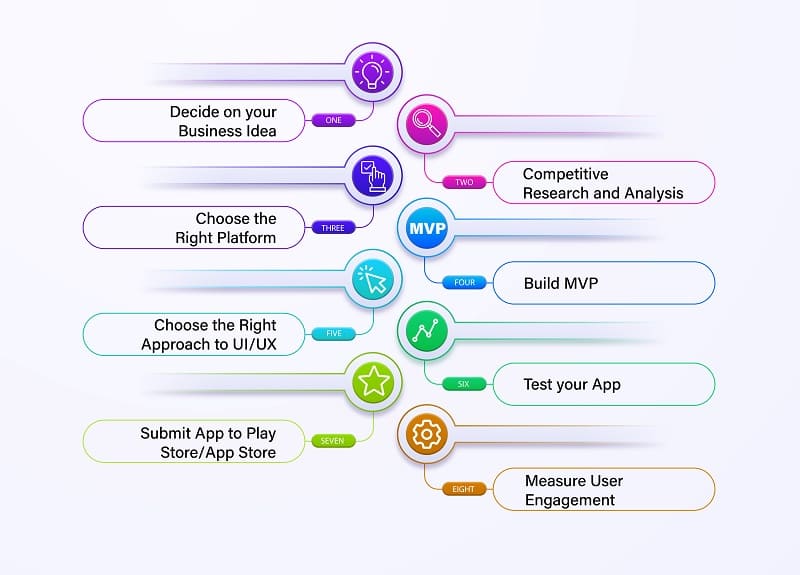 1. Decide on your Business Idea
There are now the following categories of relaxation and meditation applications available on the market: To create a successful app, you must decide what exactly you're going to give your users.
Yoga app
Mental health tracker app
Meditation music app
Guided sleep meditation app
Weight loss meditation app
Meditation app for beginners
Walking meditation app
Breathe meditation app
Women health tracking app
2. Competitive Analysis and Research
Knowing market leaders will help you find a distinctive value proposition for your application to stand out, so after you've decided on the app concept, the next step is to understand your competition. You should also delve deeper into user reviews for the top-ranking meditation apps on the market to help you come up with a better product.
3. Select the Proper Platform
If you have a limited budget, you can develop just an Android or iOS app, and then you can improve your service so it can operate on another platform. Read on to learn how much Android or iOS app development costs. Your mindfulness and meditation app can be compatible with both Android and iOS platforms, but it will undoubtedly increase app development costs.
4. Build MVP
Consider creating a minimum viable product (MVP), which is the first version of a product with a basic set of features, if you want to test your app idea without spending a lot of money. Users can contribute to MVP software development by leaving comments and feedback about their experiences with your app, letting you know what functionality they would like you to add to your product.
By doing this, you'll be able to save money while simultaneously analyzing user behavior to add the most popular features throughout the next stage of development.
It's best to avoid adding complex features like in-app purchases, video streams, and conversations when creating an MVP and instead concentrate on adding fundamental functions such as:
Registration and sign-up
User profile with progress stats
Short video or slides for introduction
Library with pre-listed meditation sessions
5. Choose the Right Approach to UI/UX
Users who experience anxiety or depression can easily become irritated and leave due to poor navigation, a messy interface, irritating colors, and other details, so make sure to involve UX/UI specialists at this stage when developing an app like Calm. You should also build a program aimed at helping people with stress, anxiety, and depression.
Here are some pointers to keep in mind when creating an app like Calm to prevent mistakes:
Don't use bright colors. Instead, you can go for pastel shades
Abstain from overloaded patterns as they may distract app users
Use animations instead of text
6. Test your App
The performance of the app should be tested once it has been developed, including its speed, reaction time, scalability, and compatibility with all platforms. Testing will also help ensure that all of the app's features function as intended and that there are no severe issues that cause the app to crash.
7. Submit the app to the Play Store/App Store
However, publishing an app to the App Store and Google Play is not always as simple as you'd expect. Not only do you need to comply with Apple's and Google's developer guidelines, but you should also align your monetization model with their requirements. Once you're satisfied with the app's performance, you can submit it to the Android or iOS app stores.
A global audience and millions of prospective users can be reached by uploading your meditation software to the software store and Google Play, even though it must satisfy numerous standards to do so.
8. Measure User Engagement
Some of the user experience traits you'd want to track after launch include:
Which routes do users most frequently take when using the app?
Are there any obstacles preventing them from acting?
How much time does it take them to complete a task?
Additionally, there are additional economic KPIs, such as:
Rates of turnover and retention
Stickiness of the app
The ARPU, or average revenue per user
Meditation App Features That Your Calm-like App Must Have
These features will help you engage and keep your mindfulness app and customers, over time. We've highlighted the commonplace meditation app features that any user expects in this area:
1. Profile Creation
The most important aspect you should concentrate on while developing Calm-clone software is profile creation.
Users will be able to create profiles on the application, as the feature's name suggests, where they can view and keep all of the information about them or the activities they have participated in.
2. Sleep Stories
Users can pick the greatest stories under this category that calm their bodies and thoughts and promote restful sleep.
3. Introductory Tutorials
To help novices, this feature will provide introductory classes and activities. These onboarding tutorials cover the fundamentals of meditation and related exercises, in addition to providing step-by-step instructions on how to use the app to its full potential. Such starting lectures must be clear and visually appealing to give app users quick answers.
4. Masterclasses
Through the app's Masterclasses feature, users will have access to the top mindfulness specialists in the world's most exclusive classes.
5. Meditation Library
There should be thousands, or perhaps hundreds, of meditation sessions in your collection. Each user should be provided with sessions that are appropriate for them after you categorize them. You should indicate how long each session will last, its category, and other details so consumers know what to anticipate. Calming music, bedtime tales, and other materials can be found in a library of sleep meditation apps.
6. Personal Statistics
Users will be able to monitor their progress in regular meditation thanks to this function. If you integrate with wearables, you can also display statistics from fitness trackers and smartwatches to indicate how a user's sleep quality changes over time. Personal statistics should be presented visually, therefore, pay attention to data visualization and incorporate animations.
7. Reminders
The mobile app will offer users several reminders about leading a stress-free life under this category. This includes cues to check the app, go to bed, and practice mindfulness.
8. Chat Support
If any of your users have inquiries, they can do so directly from your app. An automated chatbot that can respond to simple inquiries can be used to create chat support. For trickier questions, you can ask your support staff for assistance.
9. Discovery Screen
On this screen, you can display updates and the most popular programs, in addition to presenting all meditation sessions and resources. This screen needs to offer content in a variety of categories and always have something unique.
10. Stories
Numerous apps have found a use for the Tales feature. This feature can be added to enable users to give personal accounts of how meditation has enhanced their lives overall or helped them cope with anxiety and depression.
Users have found peace of mind thanks to these features in meditation apps. But the distinctive user experience approach this program has utilized has given tranquility a new connotation.
Let's take a quick look at the design philosophy behind the Calm meditation app while keeping the same in mind.
UI/UX Analysis of Calm Mobile App
It is time to look at the essential UI/UX design elements for apps of this type now that you are clear on the essential functionality required for an app like Calm. The main UI/UX design factors for a calm-like app are listed below.
1. Aesthetic Vibes
Everything about the Calm mobile application, from the icons to the font, colors, and visual components, exudes a cozy, peaceful vibe. Making difficult subjects like stress, anxiety, relationships, and self-care seem balanced and a little more comfortable has remained a significant goal.
2. Minimal App Design
The basic app design principle has been meticulously applied to the peaceful app as well. To provide users with a relaxing experience, the app has included the fewest necessary functions and elements on the screens. The 'Breathing Exercise' app interface is proof of this.
3. Push Notifications
The Calm smartphone app uses push notifications to remind users of their scores, upcoming activity schedules, and other important information. This not only enables users to benefit more from this mindfulness app but also forces other business enthusiasts to develop a push notification approach that increases conversions.
4. Ease of Search
The Calm app's clever labeling of content under numerous headings makes finding the appropriate content simpler. Additionally, it provides voice-over information, which encourages users to choose this mindfulness meditation software over others.
5. Localization
The smartphone app that is similar to Calm has also invested in app localization. i.e., English, German, Spanish, and five more languages are among the languages in which the app's content is available.
This raises the chance of attracting more people by allowing users to download the content in their native tongues.
Now that this has been addressed, let's move up the ladder and compare mindfulness technology to these features.
Mindfulness App Tech Stack to Pick for Your Calm-Clone App Development Project
The programming languages, frameworks, and tools we take into consideration have a significant impact on the results, as we've already discussed in our blog post on choosing the right technological stack for your app. While the proper technological stack ensures that your app functions properly and improves outcomes, the incorrect one can damage your app's reputation.
Let's look at what falls under the category of mindfulness app tech stack to better understand how important knowing the correct tech stack is.
Knowing the fundamental details, you could anticipate hearing about the price of creating mindfulness software like Calm in the section that follows.
But hold on.
Before we discuss app development prices for calming meditation, you need to be aware of the difficulties your chosen app development business will encounter when creating the app, as well as the problems linked to the market.
Let's look at some potential difficulties in developing an app like Calm.
Challenges You Might Face While Creating a Calm-like App
Undoubtedly, there are many difficulties in creating an app like Calm. When releasing a successful meditation app for your consumers, there are several obstacles to overcome, such as slow loading times and expensive subscription costs. So let's get started right away!
1. Simplicity and Speed
The largest problem your hired team of app developers will encounter is keeping the program simple and faster to load while adding a lot of features.
2. Localizing App Content
There are several major difficulties with creating multilingual apps when discussing app localization. Again, your chosen app partners would face difficulties in addressing those issues and completing the project on schedule.
3. Transparency
Currently, there are many apps for mindfulness meditation available on the market. Only a few of them, though, have substantial evidence to support them. Customers are now hesitant to choose some apps over others. It subsequently made it difficult for entrepreneurs to gain their clients' trust and maintain their platform's loyalty.
Something doable if you add the proper level of transparency to your app's operations.
4. Higher Subscription Rate
When focusing solely on the mindfulness market, users are generally opposed to paying a monthly charge for the apps. To get better results, businesses in this field are also heavily focused on establishing effective pricing benchmarks.
So once more, a higher subscription charge could provide a challenge for business owners looking to invest in the creation of a meditation app similar to Calm.
Let's now move on and dissect the price of creating a mobile app like Calm.
How Much Does it Cost to Build an App like Calm or HeadSpace?
An app like Calm or Headspace typically costs between $10K and $30K to develop. The price to create an app, which is detailed in our cost guide for developing mobile apps, is not set in stone. It changes depending on several variables, including:-
App Specifications: App Information: The size and complexity of the Calm app directly affect its cost. Therefore, the cash you need will undoubtedly be more if you plan to develop a whole app.
Development Team: The cost of the app greatly depends on the size, location, expertise, and experience of the mobile app development company you choose.
Tech Stack: The price of creating meditation software similar to Calm will also depend on the programming language, tools, and other technological components you use. The price of developing an app increases as you incorporate additional tools and technology.
In this situation, getting in touch with the top app specialists is the ideal method to get the precise cost of creating an app like Calm.
Now that you know how much you need to invest in the creation of the Calm-like meditation app, let's talk about how to make the money back. You may also just say, "Let's find out how the Calm mobile application makes money."
How to Earn Money Back From Your Calm-like App
It's time to look into the popular app monetization models that will help you get the most income from your meditation app development now that you know how to design a meditation app similar to Calm and what Calm app features you should integrate to produce a successful meditation app.
1. Subscription Model
Calm and other similar mindfulness meditation apps largely employ a subscription-based business model. That suggests a meditation app monetization model in which users pay a set monthly or yearly subscription cost to unlock the app's advanced functions.
2. In-App Purchase
This category includes mobile applications like Calm and HeadSpace that give users the option to purchase some meditation-related services and goods directly from the platform.
Adopting this Calm app business and revenue model would enable you to produce revenue that is almost on par with that of the Calm app. However, you would need to make an extra effort if you wanted to outperform the market for mindfulness apps.
Curious about what those added efforts might be? How can the process of recovering the costs associated with creating meditation software similar to Calm be sped up? Let's finish this article by talking about the same.
Tips and Practices to Opt for Successful Calm-like App Development
The following are the most crucial advice and recommendations you should take into account when creating a meditation app:
1. Search Option
A search feature on the app screen can improve the results even though the Calm app has successfully categorized the information to give a better search experience. Therefore, plan to include a search filter option in your mindfulness and meditation app, such as Calm.
2. Use Technologies like AR/VR
AR/VR can transport people to a virtual environment that can more effectively arouse their worries and concerns. And in doing so, hasten their process of unwinding and mental health improvement.
To improve the results, it is also a good idea to talk about integrating such cutting-edge technology while developing an app development process similar to Calm.
3. Start with an MVP
Even though creating a Calm-clone program can be lucrative, starting with an MVP is still a wise choice. You can enter the market more affordably and quickly with the help of a minimally viable product (MVP), which will also allow you to adapt your application to changing customer needs and behaviors.
4. Consider Gamification to Engage More Users
You may increase user engagement with your meditation software by including a gamification component. For instance, users can receive a badge after doing an exercise. The need to maintain the score will eventually drive someone to buy a paid subscription by automatically extending the KPIs.
How can Grepix Infotech help with your meditation app development?
Grepix Infotech is a leading mobile app development company that works on custom app development. We created numerous apps for our users as a top mobile app development business. Our team of expert app developers is well-versed in the technologies required to create top-notch health and meditation apps.
Therefore, feel free to get in touch with us if you have any intriguing app ideas of your own. Our experts will bring your idea to life and offer the best mobile app development services for mental healthcare.
Frequently Asked Questions about Calm-like App Development
Q. How do I make a meditation app like Calm?
Ans. The process of creating a meditation app similar to Calm is more difficult than it first appears. On both the business and development fronts, you would need to concentrate on several different topics. So that you may obtain a pertinent response, we advise that you speak with a leading wellness and fitness app development business.
Q. Is the Calm meditation app free?
Ans. You can use a few of the Calm meditation app's functions for free, but you'll need to subscribe for a monthly or yearly fee to access more features and learn more about mindfulness.
Q. How much does the Calm app cost?
Ans. The price of a Calm app can range from $10K to $30K on average, but it also depends on the platform used, the complexity of the software, and the features it offers.